Dining
---
We have a wonderful formal dining room which has been filled with antiques of the period. Dining with us is reminiscent of the dining elegance of times past. Paheke provides a home-cooked three course meal with a choice for each course. The meal is served with a fine selection of New Zealand and Australian Wines. We prepare New Zealand cuisine utilising fresh local produce.
Dinner begins at 7.30 pm.
To best cater for our guests, meals are available only by prior arrangement (24 hours notice is required).
NZ$75 per person, please contact us for further information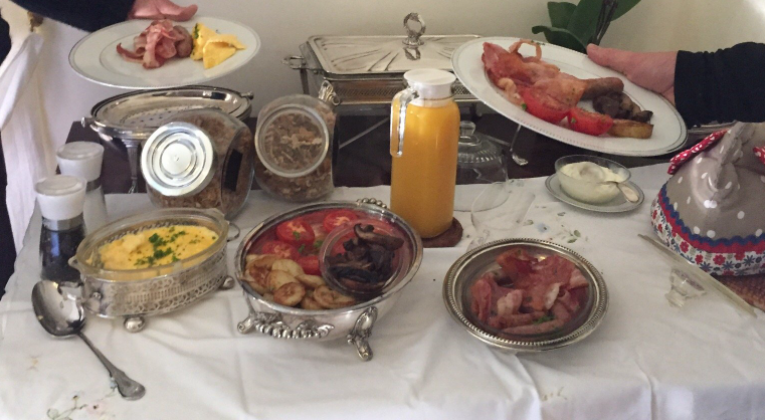 Special Events at Paheke
Weddings
Paheke is an ideal venue for an outdoor wedding ceremony and marquee wedding receptions or perhaps an intimate small group wedding indoors. The old house with its gables and verandah and the grounds with the majestic Cedar of Lebanon, the old oaks and magnolia trees, make a beautiful backdrop for the ceremony and reception. A stream wends its way through the grounds and it is crossed by two rustic bridges, which make for wonderful photo opportunities. We can assist you in the organisation of all or part of your wedding event at Paheke.
Marquee wedding reception in the spacious grounds
Marriage ceremony in the grounds of the house
Champagne cocktail reception
Organising, assisting in the selection of, and liaising with celebrants, caterers, photographers, florists and suppliers for your wedding on your behalf.
There are many wonderful photo opportunities provided by the grounds.
Paheke would like to thank Simon Hoyle of Southlight for permission to use his photographs on the Paheke website. We would also like to thank Don and Ginny Duffell for their permission to share the photos of their Wedding Day at Paheke. Please visit Simons' website: www.southlight.co.nz
Southlight Studio, 614 Marine Drive, Days BayLower Hutt, Wellington, NZ tel 04 562 7200 fax 04 562 7204
Picnic Lunches
If you have a day at the beach or a walk amongst the majestic Kauri planned, Paheke can prepare for you a picnic hamper. We will cater to your preferences. Hampers can include a selection of homemade pork pie and chutneys, salad, sandwiches, cheeses, fruit, cake and drink. To best cater to our guests, picnic hampers are available by prior arrangement. NZ$50.00 per hamper for two (this price includes a bottle of wine)
Gift Vouchers
If you are having difficulty finding the perfect gift for family or friends, Paheke will create a Gift Voucher for your loved ones providing accommodation and meals at Paheke. A stay at Paheke would make a perfect anniversary or birthday gift. We would love to help you pamper that special someone. Gift Vouchers are tailored to your specifications. Please call or email Juen at Paheke to arrange.
photo voucher
Outdoor Living
Barbeque and Outdoor Dining Area
We have a covered Barbeque and dining area where guests are welcome to cater for themselves. The barbeque is large, gas heated with a grill, hot plate and roasting tray.
Table and chairs for six persons with additional bench seating.
Petanque Court
In the shade of the exotic 'flame tree' with its brilliant red flowers, play the very European game of pétanque. Maybe you are more of a spectator and would prefer to choose a shady bench and enjoy a glass of New Zealand white wine as you watch the 'match'. During the match breaks the court serves as an excellent construction site for the smaller engineers in your family.