Paheke has three luxury suites all with ensuite bathrooms that are situated in the new extension to the historic house. The luxury suites are decorated in an understated classic style, and have top-quality beds, high thread count cotton bed linen, wool duvets, and feather comforters.
The Coach Room The Balcony Room The Laurel Room
Our room rates and prices include local taxes (GST) and a full breakfast.
Additional Information
All suites have ensuite bathrooms with showers and an ample supply of freshly laundered quality towels.
All rooms have coffee and tea-making facilities. All rooms have small fridges.
A delicious continental and/or cooked breakfast is served in Paheke's formal dining room. Breakfast consists of cereals, fresh fruits, stewed fruits, juices and a full breakfast in serving dishes at the table. Breakfast at Paheke is served in a single seating at 8 o'clock. Please chat with Juen or Anya about your requirements for an earlier breakfast.
You can also dine at Paheke, a home-cooked three-course meal with wine is available upon request. We require at least a day's notice but are happy to accommodate most dietary requirements. Note: A 10% discount is available on Bed and Breakfast accommodation to members of the Heritage New Zealand, only if the booking is made through our website.
Wifi is available for guests.
There are fridges in all guest rooms with milk and water provided.
The formal lounge and library rooms downstairs in the old house are for guests to use and enjoy.
Laundry facilities are available to guests upon request.
For the comfort of our guests, Paheke is non-smoking in all rooms.
For the preservation of the wooden floors throughout, guests are requested to remove high heels while inside.
---
The Luxury Suites
.
---
The Coach Room – BookIt
A large room, decorated simply, with polished wooden floors and woollen rugs. Its name reflects the considerable use of the old house as a coaching stop by successive owners E. Chafey and J. W. Bindon, both of whom ran coaching businesses. This ground-floor room has been designed for disabled use, with its own private entrance, large shower room and French doors leading to a private sunny deck facing west. The room contains
a king-sized bed, with high-quality linens and a feather duvet.
A rocker/reclining easy chair completes the comforts.
A computer desk is installed for those who wish to use their laptops with free wireless.
Television with Freeview by satellite is provided.
A fridge is installed in the room.
A heat pump provides both heating and cooling as required.
King bed and a private deck through french doors. Comfortable king bed with luxury linens. Lovely bathroom with full access shower and toilet.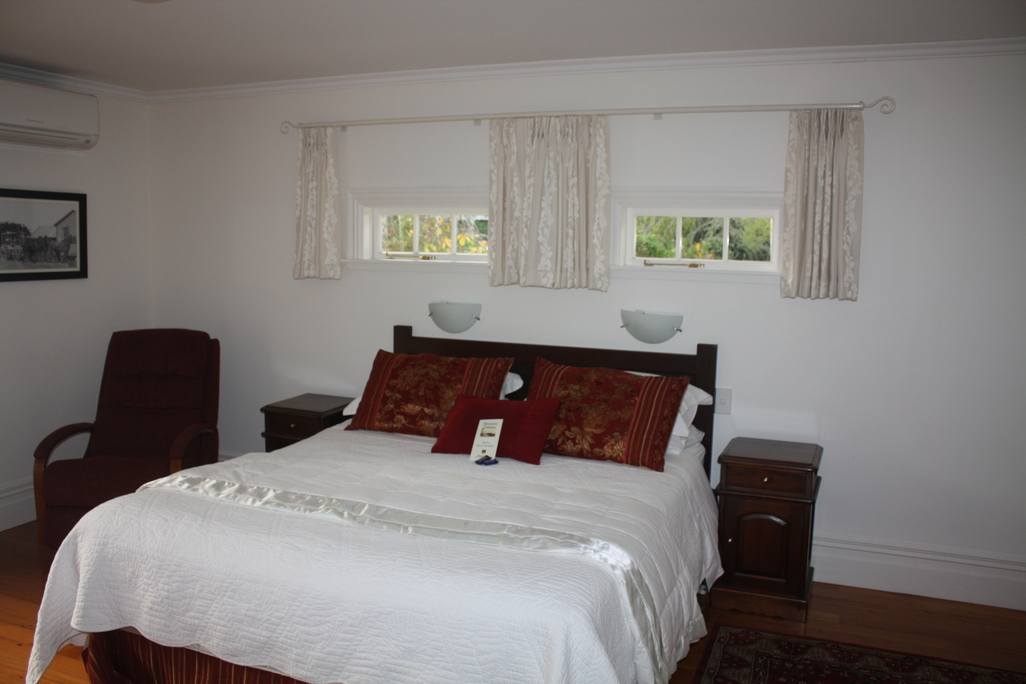 .
---
The Balcony Room – BookIt
A large airy room decorated in an understated elegant style, with polished wooden floors and wool rugs. Two sets of French doors open out onto private balconies with expansive views of the garden. The room contains a king-sized bed, with high-quality linens and a New Zealand wool duvet and a feather comforter. An ensuite bathroom with bath and shower with fresh towels daily. Television and DVD player are provided.
Lovely airy suite with french doors and private balconies. Deluxe king bed and luxury linens. French doors to the private balcony overlooking the lush gardens.
.
---
The Laurel Room – BookIt
This charming room is done out in white lace and blue silk. The room contains a queen-size bed, with high-quality linens and wool duvet and feather comforters. The room also contains a television and DVD player. There is an ensuite bathroom with a shower and fresh towels daily.